---
---
---
https://twitter.com/i/moments/988155811917697025
like her or love her Shania Twain outdid the rest.
AND she woulda voted Trump had she been able/US Citizen.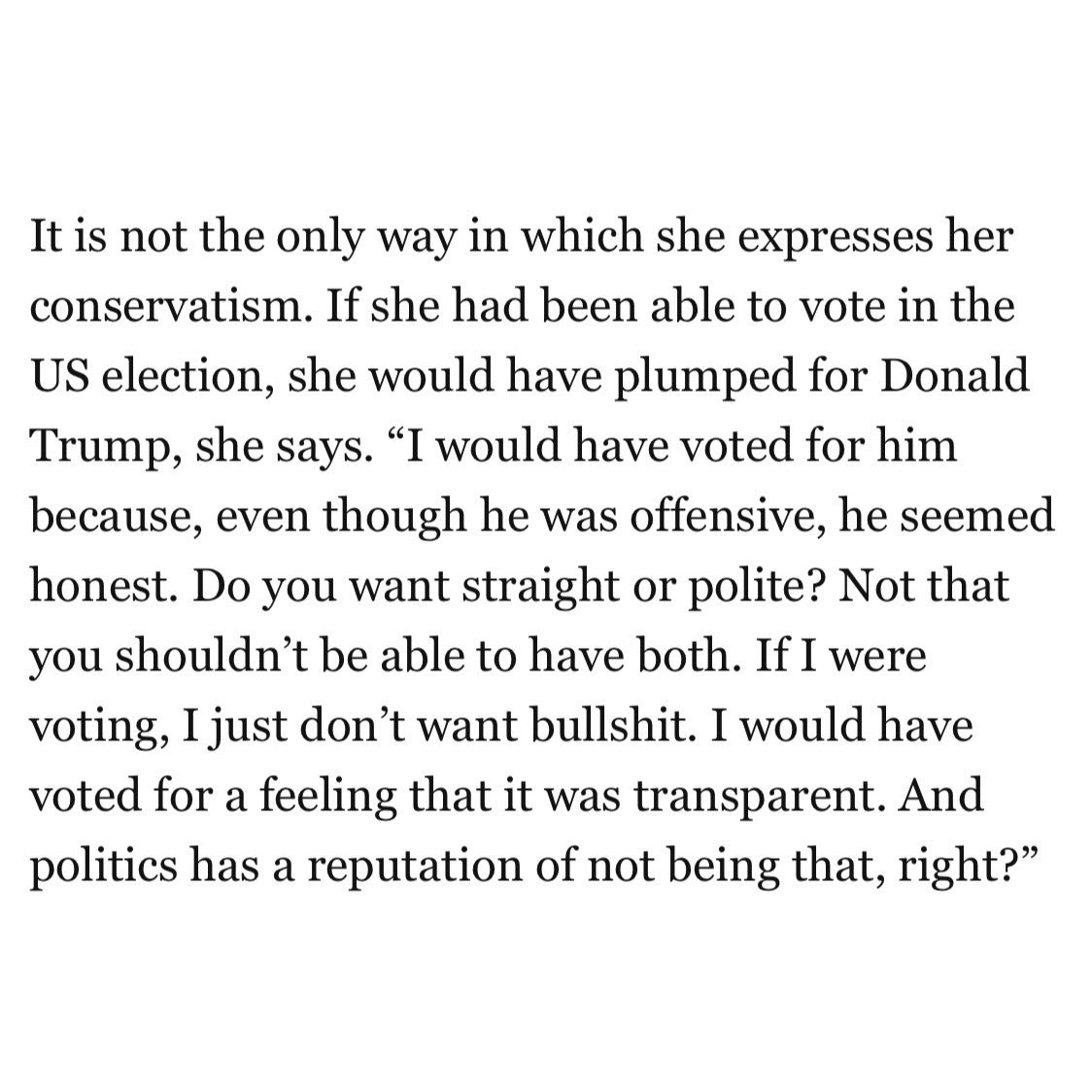 ---
---
---
---
Think Club
Published on Aug 7, 2018
I LOVE MARGARET HOOVER'S JORDAN PETERSON INTRODUCTION.

With Jordan Peterson the difference between conservative and progressive interviewers couldn't be starker. The activist goals on the left really motivate so much of their behavior. This interview is far more evenhanded. I really respect the interviewer for making the subtle distinctions in Peterson's political views without an attempt to paint Peterson as something he is not.
Sorry for the repeat upload. I accidentally deleted this very popular video. I am working on a playlist of all my favorite interviews with Jordan Peterson so I wanted to reupload the video since it's definitely one of his most interesting exchanges. No need to listen again if you've already heard it.
Dr. Jordan B Peterson was raised as a Christian conservative, and began questioning religion in his early teens. He criticizes the New Atheists (specifically Richard Dawkins and Sam Harris) for oversimplifying the philosophy of Christianity when making their critiques. Peterson often points to the symbolic underlying meaning of the archetypal ideas in religious mythology when explaining his understanding of religion.
He grew up in Fairview, Alberta, Canada, a small town of 3,000 people 580 km (360 mi) northwest of Edmonton, Alberta. He resided in Montreal from 1985 to 1993, where he studied under the supervision of Robert O. Pihl and Maurice Dongier. From 1993 to 1998 he lived in Arlington, Massachusetts, while teaching and conducting research at Harvard. He has resided in Toronto since 1998.
At the age of 13, Peterson had joined the New Democratic Party (NDP). He remained continually active with party until the age of 18. He has two bachelor degrees from the University of Alberta. His first was in political science. After visiting Europe, Peterson became extremely interested in the psychological unpinning that created the circumstances of the Cold War and its origins within the Second World War. After this experience, he returned to the university to complete another bachelor in psychology.
He received his Ph.D. in clinical psychology from McGill University. He taught at Harvard University as an assistant and an associate professor. There he studied aggression arising from drug and alcohol abuse. During his time at Harvard, the university psychology department would frequently send any student with a strange or unusual thesis to him, as he would be willing to entertain and supervise uncommon thesis proposals. After Harvard, he returned to Canada and took a position at the University of Toronto.
In March of 2017, Peterson was nominated for the position of Rector of the University of Glasgow. Peterson who received 442 votes came fifth in the election, losing to the Scottish lawyer Aamer Anwar who received just under 4500 votes.
Video Notes
This video was color corrected and the audio was enhanced for the best possible viewing and listening pleasure.
Video Sources
AUGUST 06, 2018
Firing Line With Margaret Hoover
Jordan Peterson: Dr. Jordan Peterson, accidental icon of the Conservative movement, joins this week to discuss his views.
http://www.pbs.org/wnet/firing-line/v
...
Jordan Peterson Links
Website:
http://jordanbpeterson.com/
Patreon:
https://www.patreon.com/jordanbpeterson
Self Authoring Program:
http://selfauthoring.com/
Books I've Read
Part 1:
Part 2:
My Livestream Channel
https://www.youtube.com/friended
SECRET VIDEO
JBPWAVE5 : A Jordan Peterson Lofi Hip Hop Mix
Fair Use Notice
This video may contain copyrighted material; the use of which may or may not have been specifically authorized by the copyright owner. We are making such material available for the purposes of education, criticism, comment, review and/or news reporting which constitute the fair use of any such copyrighted material as provided for in section 107 of the US Copyright Law. Notwithstanding the provisions of sections 106 and 106A, the fair use of a copyrighted work for purposes such as criticism, comment, review and news reporting is not an infringement of copyright. In addition this video is a transformative work intended to educate. Any video or sound clips included are just small portions of the original copyrighted works and used with the intention of directing people to the original works in an effort to increase both the visibility and potential market value of those copyrighted works.
Category
Education
---
Posts: 136
Joined: Feb 4th, '19, 01:01
Contact:
Make Canada Great Again
Herb Guitarlik jr and the Al Gore Rhythm BANNED

---
Users browsing this forum: No registered users and 1 guest